Airventure 2001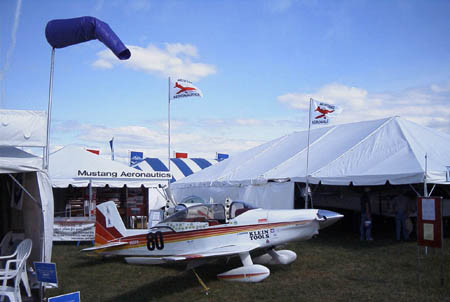 our booth
Paul Cox and Bruce Skaggs did well in the Kittyhawk to Oshkosh race.
Their average speed was 219 mph making them 6th out of 11 airplanes.
Pauls airplane has many more hours on it than any of the other racers
and is basically a stock airframe with a stock engine.
2001 AirVenture Cup Race Results
We left Sunday (7/22) for Oshkosh with our Midget Mustang N4453T and the prototype M-II N1117M. We waited out some weather in Joliet, IL so long that OSH closed for the evening before we got there. The following pictures were taken after we landed in Fond du Lac. Monday morning we flew the rest of the way into Oshkosh. [click on the picture for a larger version]


Paul Kramer and Pete Klien with their newly rebuilt M-II
Going to the Mustang Dinner
John Martino had pictures of his new kit built tri-gear M-II.
Russ Norman also brought pictures of his new plans built M-II.
Saturday morning was the first time I got a chance to get out on the flightline and take some pictures. Problem was almost everyone was gone. Our perfect weather finally broke and so did all the show planes. The only die hards left were Kirk Harrell and Bob Wagner. Kirk is talking about entering the Kittyhawk race next year and Bob has done very well the past several years in the Sun 100 race at Sun-N-Fun with an average speed well over 180 knots on 160 hp.

Kirk Harrell's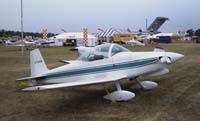 Bob Wagner's (1000 hours+ TT)
Mustang's In Attendance:

Alan Hanson, MN
Al Velette, PA (~1800 hrs TT)
Clint Lombard, WI
Kirk Harrell, IL
Paul Cox, FL (~1740 hrs TT)
Phil Funk, MN
Larry Kinder, MN (~1000 hrs TT)
Paul Kramer, FL
Russ Knaack, IL
other News & Events